Headed to Disney? Pack one of these Disney Scavenger Hunt Ideas for the trip. Whether you are visiting Disney World or Disneyland, you'll find a fun scavenger hunt in this list!
Do you have a Disney vacation planned this year? Print a Disney Scavenger Hunt to pack in your suitcase. Whether your family is Disney regulars, or this vacation is a once-in-a-lifetime trip, you'll find the perfect hunt in this post!
This list of Disney scavenger hunt ideas for kids and families includes in-park hunts, resort hunts, and hunts to do at home while prepping for vacation.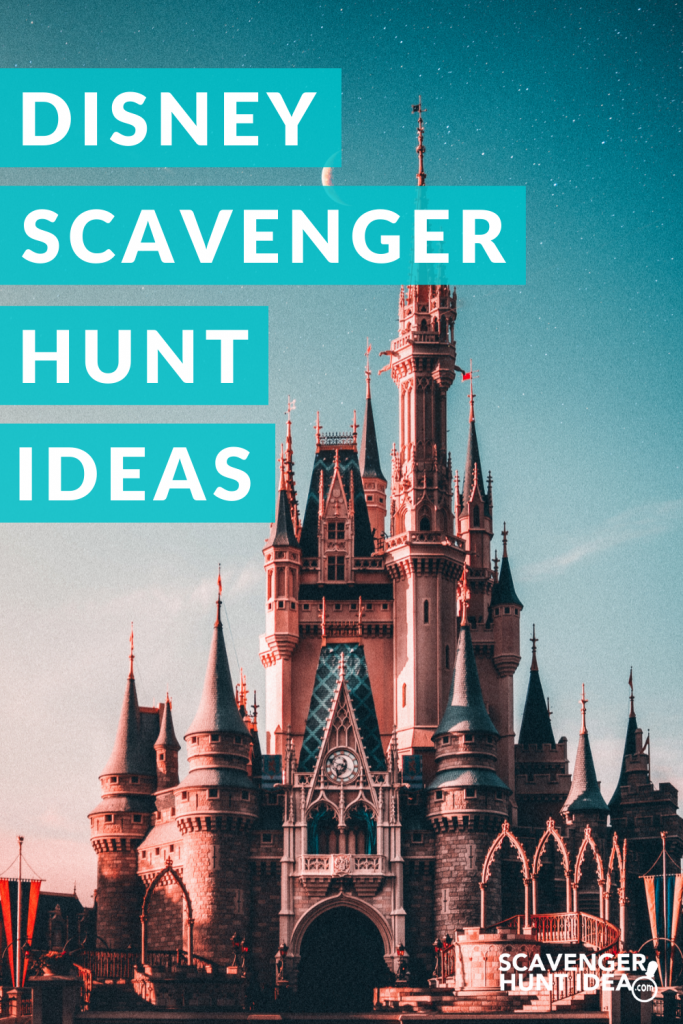 We are big Disney Park fans and have grown to really enjoy exploring the resort – including the lesser-known activities on property. So, Disney themed scavenger hunts are right up our alley! If you are looking for new Disney inspired fun for your kids (or your whole family), check out these Disney scavenger hunt ideas.
You might also like: Go on a Road Trip Scavenger Hunt while you travel!
HOW TO PLAY A DISNEY SCAVENGER HUNT
So, how do you play a Disney Scavenger Hunt? Feel free to be creative, but this is the most common way to play:
First, give each family member a scavenger hunt.
Next, depending on the ages of the participants, choose to either:

work as a team to find the items listed, or
compete to find the items.

When an item is found, mark it off the list.
The game is over when either:

a participant completes the entire list, or
the allotted time (determined by you!) ends.

If you choose to end the game before a participant completes the entire list, then the winner is the participant who has marked the most items.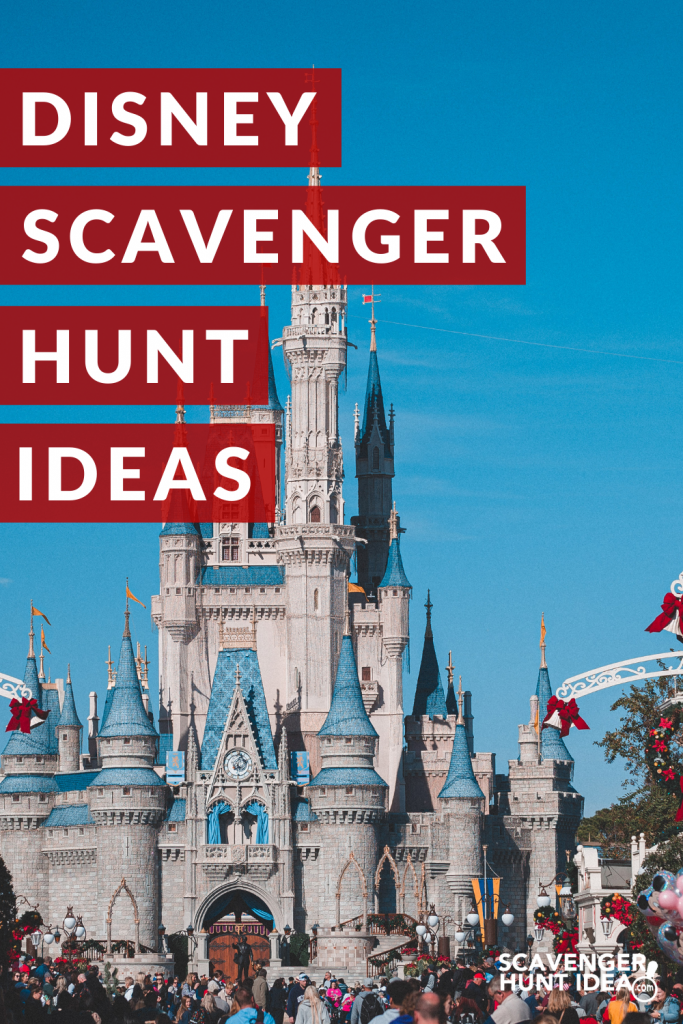 Disney Themed Scavenger Hunt Ideas
Whether you are creating a Disney Scavenger Hunt for kids, teens, or adults – this list has you covered. Through this list, you'll find Disney hunts that will help you:
entertain the kids in line,
engage teens with vacation photography,
challenge the whole family with hard-to-find items, and
more

!
Disney Scavenger Hunts Ideas (for Disney World and Disneyland)
Photo Credit: http://www.teammom365.com/2018/10/11/walt-disney-world-scavenger-hunts/
Team Mom 365 created a scavenger hunt for each of the 4 parks at Disney World. Break into teams and compete to find the most items during your down-time. Perfect for killing time while waiting for a dining reservation, waiting in lines, or walking around.
Photo Credit: https://passportsandparenting.com/scavenger-hunt-disney-world/
I love how Passports and Parenting describes a scavenger hunt as a "creative way to explore for free." In this hunt, designed for tweens and teens, they'll be challenged to stay observant as they tour the parks.
Photo Credit: https://momontheside.com/the-best-disney-world-scavenger-hunt-for-adults
This Disney hunt from Mom On the Side was created by a former Disney cast member and is perfect for those adults who are just as obsessed with Disney as the kids! Tons of not-so-easy to find items on this list, perfect for a Disney fanatic who wants to experience the parks in a new way.
Photo Credit: https://www.travelingmom.com/walt-disney-world/best-magic-kingdom-rides-bigger-kids/
Get your tweens and teens involved in Disney fun with this Magic Kingdom photo scavenger hunt from Traveling Mom. This game will encourage teens to document their trip in new and engaging ways with selfies, activities, and more!
Photo Credit: https://practicalwanderlust.com/disneyland-scavenger-hunt/
Heading to Disneyland? Grab this Disneyland scavenger hunt from Practical Wanderlust for extremely competitive, game-loving Disney goers who want a challenge.
Photo Credit: https://www.savvymamalifestyle.com/disney-springs-scavenger-hunt/
The kids aren't always excited to trek over to Disney Springs. So, grab this Disney Springs Scavenger Hunt from Savvy Mama Lifestyle to entertain kids while you shop.
Photo Credit: disneylanddaily.com
Search Main Street at Disneyland for 10 hidden items and learn a little on the way. This scavenger hunt from Disneyland Daily highlights some trivia and history about the original Disney park.
Photo Credit: https://www.polkadotsandpixiedust.com/holiday-scavenger-hunt-at-walt-disney-world/
It's never too early to get excited about the holidays! This Disney holiday photo scavenger hunt from Polka Dots and Pixie Dust is a fun and festive hunt to add to your Christmastime Disney trip!
Photo Credit: www.picturingdisney.com
Picturing Disney created a fun - and practical! - scavenger hunt filled with all of the best photo op ideas at Disney World. This scavenger hunt is fun, while also helping you document those special vacation memories.
Photo Credit: disneyfashionista.com
Does your family like to search for hidden Mickeys? Take this scavenger hunt book on your trip and see how many hidden ears you can find!
Photo Credit: https://heydonna.com/disney-vacation-scavenger-hunt/
Donna from Hey Donna wanted to surprise her kids with a trip to Disney World. So, she created a scavenger hunt to announce the trip! Use this hunt to surprise your kids with a Disney trip, too.
Photo Credit: https://www.playpartyplan.com/disney-scavenger-hunt/
Missing Disney World? This Disney scavenger hunt from Play Party Plan will have kids hunting all over the house for Disney Parks inspired items!
If you like this Disney scavenger hunt, you might also like these travel ideas:
Like these Disney Scavenger Hunt Ideas? Pin it to save it!