This March 17th, play a St. Patrick's Day scavenger hunt game. Kids can search for items around the house, in a classroom party, or during a St. Patrick's Day parade.
Whether you're stuck inside on a cold late-winter day or organizing games for a classroom party – make March 17th a little more festive with a scavenger hunt. Print a stack of free St. Patrick's Day scavenger hunts for your kids and all their friends!
Encourage kids to search for items such as shamrocks, leprechauns, and rainbows while they watch a St. Patrick's Day parade. If you're a teacher (or homeschool parent), read a book about the holiday's history and challenge kids to find scavenger hunt items such as a cross, top hat, or a map of Ireland in the story.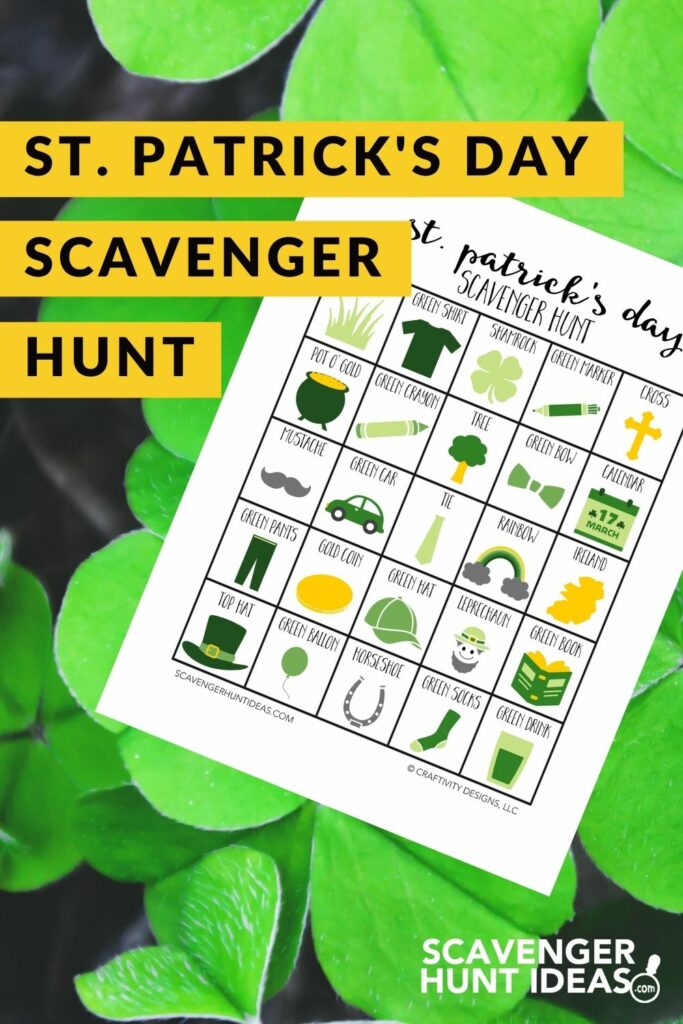 Disclosure: This page includes affiliate links.
How to Play a St. Patrick's Day Scavenger Hunt
So, how do you play a St. Patrick's Day scavenger hunt? Be creative! There are so many ways to play that I'll only share a few of my favorite scavenger hunt ideas:
Classroom Parties – Are you in charge of your child's classroom party? Challenge kids with this fun game that they can work no throughout the party. They can seek and find the scavenger hunt items in the decor, while you are passing our food, and during other activities (such as reading a book or showing a movie).
Parade – Headed to a St. Patrick's Day parade? If you have younger kids, challenge them to search for each item on the scavenger hunt and work together to complete the game. With older children, compete to see who has the sharpest eye and can find the most items.
Unit Lesson – Are you leading a unit lesson about St. Patrick's Day? Use the scavenger hunt game as a tool to keep the kids engaged while you teach and read picture books about the history of the holiday.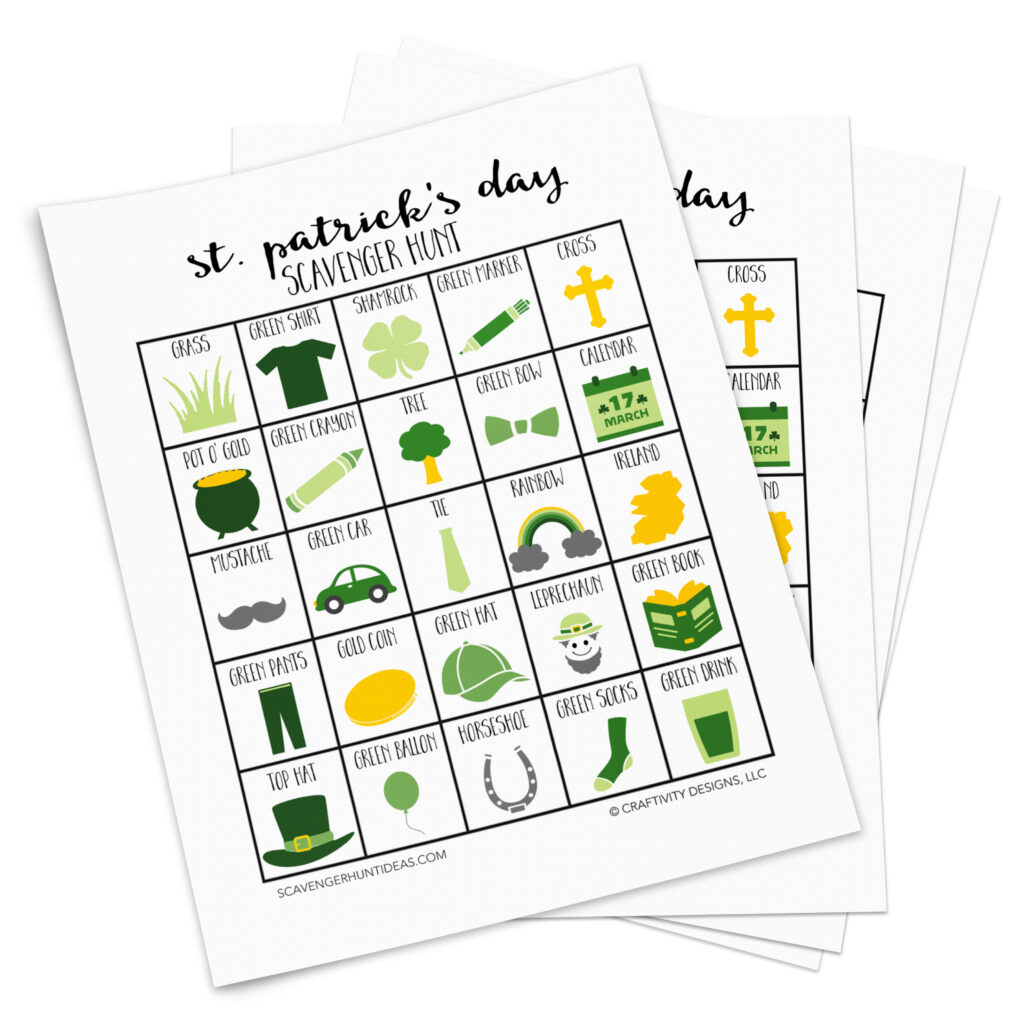 Did you know? All of our Scavenger Hunt Games include the picture and the word so that any kid can play, even if they haven't learned to read.
St. Patrick's Day Scavenger Hunt List
What items should be included in a St. Patrick's Day Scavenger Hunt? Here are some items to find when celebrating this March holiday:
shamrock
rainbow
leprechaun
pot of gold
gold coin
cross
green things (crayon, marker, etc.)
lucky things (horseshoe, penny, etc.)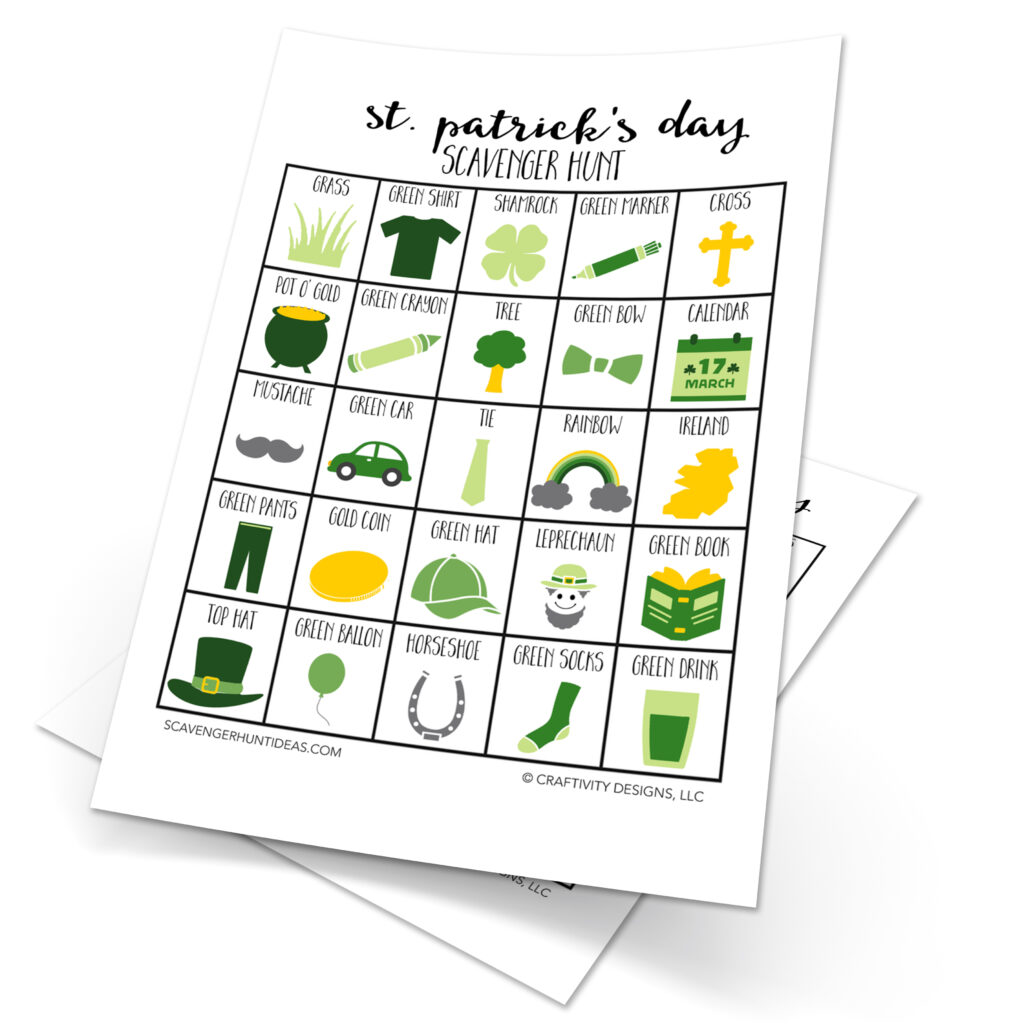 Download the St. Patrick's Day Scavenger Hunt PDF
All of our free scavenger hunts are available to Scavenger Hunt Ideas subscribers. Subscribing is free, and signs you up for email updates. We'll let you know:
when we have new free scavenger hunts available and
when we run special sales on the dry-erase scavenger hunts!

IF YOU LIKED THIS SCAVENGER HUNT IDEA, YOU MIGHT ALSO LIKE:
LIKE THIS St. Patrick's Day SCAVENGER HUNT? PIN IT TO SAVE IT!